In 1989, Wiljean Compere left his home in Hinche, Haiti for the country's second largest city, Cap Haitien. Wiljean felt the call of God on his life, and though he arrived on the streets of Cap Haitien with only 50 cents in his pocket, he believed that there was no obstacle too big for God to overcome.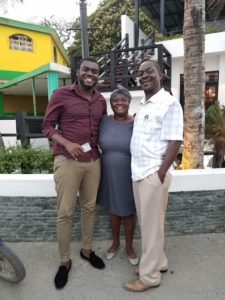 Wiljean's story is a testimony to the miracle working God for whom nothing is impossible. All along his journey, Wiljean believed God when He said, "I have set before you an open door, and no man can shut it." (Revelation 3:8) Wiljean went to Emmaus Theological Seminary for four years at OMS, and then continued his studies at Berean Theological Seminary (SBC). God provided for six years of education, housing, food and every other need along the way through strangers God put in Wiljean's life to bless him. Open Door Church of Chillicothe, Ohio partnered with Pastor Wiljean as he finished his seminary education, helping to launch him into what God would do next.
In 1993, after praying on a mountain, seeking God's direction for the work God would have him start, Wiljean was encouraged by a taxi driver to consider an area where he used to drive and no evangelical work existed. Wiljean rode his bike two and a half hours from his home in Vaudreuil through the city, out through Limonade, to the small farming community known as Bois de Lance. A Baptist church once existed there, but when the pastor died, so did the work. The church building had been empty for seven years, taken over by the local market.
Wiljean knew when he saw the town of Bois de Lance, then a town of 17,000 people, that this was the place God wanted him to start the church. When he began the work, no one showed up for church. Wiljean preached anyway. Preaching to an empty room, Pastor Wiljean proclaimed, "I didn't know who else God wanted there, but I knew God wanted me there, so we were going to have church!"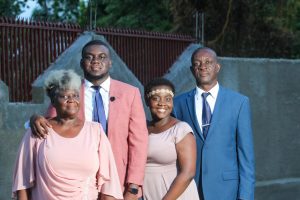 After his first convert, a local witch doctor, was brought to faith in Christ, word quickly spread of the pastor who converted a witch doctor, and Open Door began its rapid growth. Today, hundreds attend worship every week at one of Open Door's many churches.
Pastor Wiljean married his wife Jannine in 1995. They have two children, a son, Wil Jerry and a daughter, Jennie and husband Judelin and granddaughter Joybella Grace .
The Compere's live by faith, raising 100% of their salary and ministry expenses through the generous support of individuals, churches and organizations.  To support the Compere's, click on the "support this family" picture below.