Comprised of 41 small villages with an estimated population of 20,000, Bois de Lance had only one small clinic with two auxiliary nurses (training comparable to a nurse's aid). There were no private medical doctors practicing in the area. Many deaths from common diseases would have been prevented with proper diagnosis and treatment.
In November 2008, the dream of opening a professionally staffed clinic for the Bois De Lance community became a reality. With the help of the Hope Foundation, Florida Hospital, the Cap Haitien Health Network and Hands Up For Haiti, resources have been provided for Open Door Clinic's ongoing efforts. Dr. Avrius Compere, a Haitian Government Surgeon, directs the clinic and its professionally trained nurses, lab technicians and pharmacist.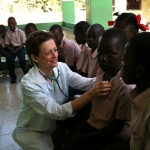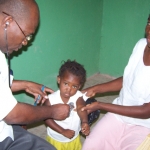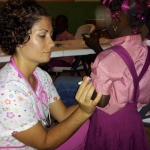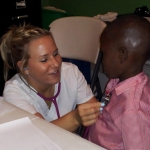 The clinic currently treats over 1000 patients a month, with its services including consultation rooms, a small surgery suite, a labor and delivery room, a laboratory, a pharmacy and a nutrition/hygiene center. In 2010, the clinic plans to bring on additional staff, including a General Practitioner and another nurse. Scholarships have been provided for a young woman to attend medical school in the Dominican Republic and another to attend nursing school in Cap Haitien. Both will return to Bois De Lance to work at the clinic when their studies are complete.  Medical and Dental teams regularly visit Open Door Clinic to bring specialized care.
CURRENT NEEDS
Funding for additional staff (General Practitioner, Nurse)
Surgical Equipment (operating table, operating light, sterilization unit)
Medical and Dental Mission Teams